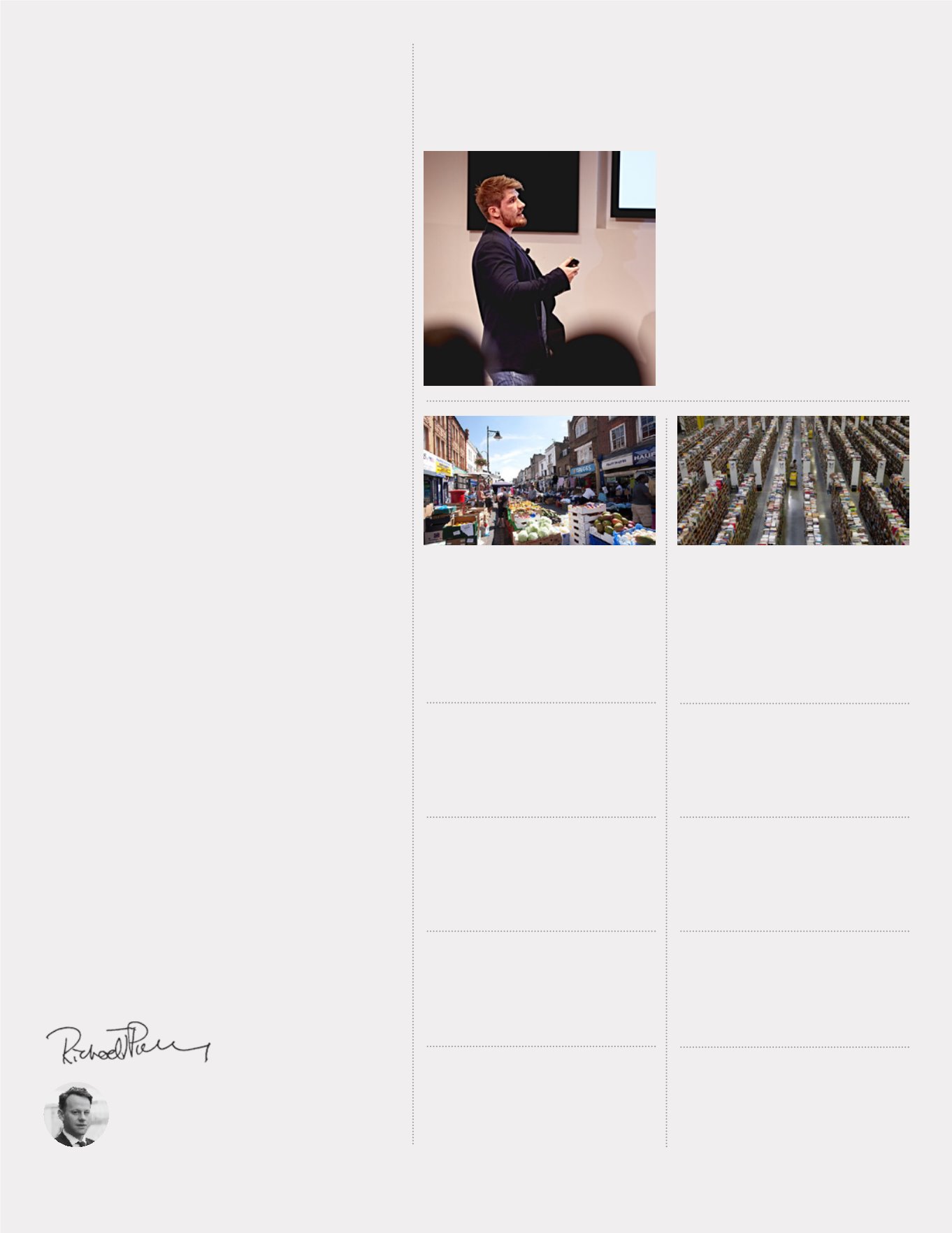 Almost one year on from the Brexit
vote, and the world hasn't imploded
as some predicted. Whilst it would
be foolish to ignore the storm clouds
on the horizon, London's resilience
continues to confound its critics.
Although pressure builds to retain
single market access, there is a
strong sense of reluctance on the
part of business to effect substantial
relocations from London.
Why is this?
Firstly, the complex
interconnection of London's
economies, developed over many
generations, creates significant
switching costs. Secondly, London
is the capital of the English speaking
world, occupying an opportune
time zone. Thirdly, London is
business friendly. It has a transparent
economy, legal and tax system, with
fair but flexible labour laws. However,
often at the top of any discussion
of London's strengths is its culture.
London is above all a place where
people want to work and live.
In this edition of Capital Watch,
we explore the theme of culture
from a number of perspectives,
and ask how this supports London's
real estate. I hope you find this
interesting, and please do drop
me a line if it sparks any thoughts:
richard.pickering@cushwake.com
Enjoy!
Richard
THE HOT ISSUE
THE HOT ISSUE
ROUND-UP
COVER STORY
PAGE 03
PAGE 08
PAGE 11
PAGE 04
FUTURE OF LIVING
PAGE 12
PAST, PRESENT, FUTURE
PAGE 27
London's Industrial
Revolutions
LONDON IN FIGURES
PAGE 21
Quantifying Culture
LONDON DNA
PAGE 19
Deptford: Rough and Ready
London's Culture
Hubs
VILLAGE LIFE
PAGE 31
We showcase the best
of Stoke Newington
Cultural City –
A Gallery Without Walls
A snapshot of London
real estate stories from
the last quarter
Using Culture
as a Strategic Asset
#TRENDING
PAGE 25
London's Last Mile
• Breaking the Real Estate
Value Chain
• Sustainable Structures
• Right to Roam
Welcome
What's Inside
Richard Pickering
Head of Futures Strategy,
Editor of Capital Watch
CUSHMAN & WAKEFIELD