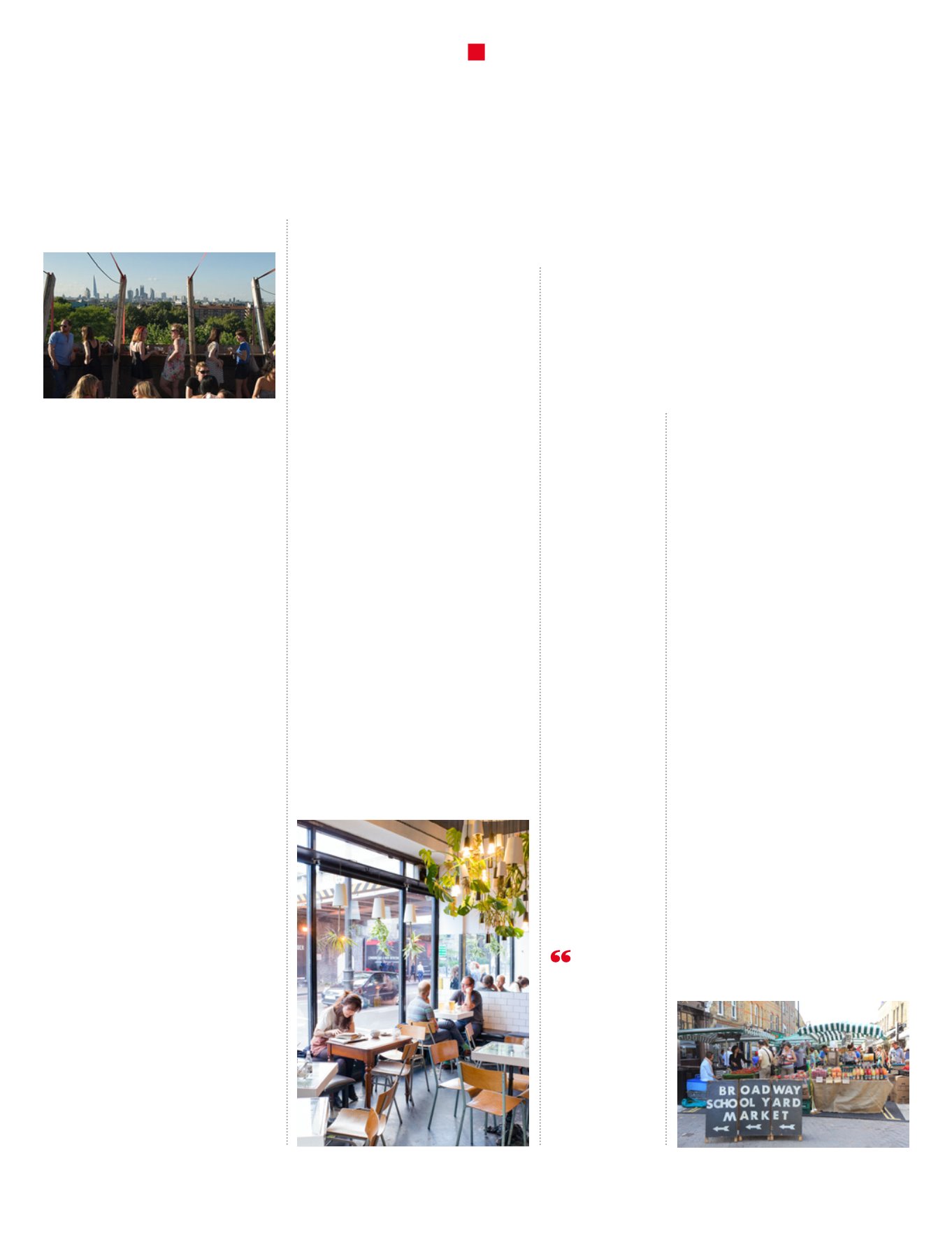 Peckham has been undergoing a
cultural renaissance since the early
2000s, hitting the hipster map
in 2007 with the launch of Bold
Tendencies, a sculpture project
in the multi-storey car park on
Peckham Rye. On the car park roof is
Frank's Café, a pop up bar providing
some of the best views of the city.
Something of an institution, the
Bussey Building, also known as the
CLF Art Café, houses a multitude
of primarily arts-based businesses
and events such as comedy nights,
fringe theatre, dance performances
and film screenings. What fuelled
this growth and put Peckham on the
cool map was the extension of the
London Overground that enabled
the 'cool' East Londoners to travel
there directly. The area is now home
to a thriving community of start-ups,
while the associated new openings
of independent restaurants and bars
mean that the area is developing a
reputation as a top dining spot. In
recent times, Peckham has become
one of the most important areas for
emerging contemporary art; Hannah
Barry, the artist and driving force
behind Bold Tendencies opened her
own gallery in 2013 in the renovated
meatpacking factory on Elm Grove.
Other notable galleries include
Peckham platform, a podium for artists
and communities where accessible
social art can be practiced and
Asylum, a collective project space.
Not all Peckham's cultural offerings
are new however; the well-known
South London Gallery was opened
back in 1891, with the founding mission
to 'bring art to the people of south
London'. It features cutting-edge
exhibitions, installations and live art and
film events giving a platform to both
well-known British and International
figures and emerging artists.
Shoreditch's culture is derived from
the clustering of start-ups and
the multitude of creative and tech
companies, who have made the area
their home. These companies have
been at the forefront of collaboration
and flexibility, and colonisation
of warehouse space since the
recession of 2008. Known for its
diverse street art and graffiti scene,
which many argue is the nod to its
past, Shoreditch still maintains its
gritty urban feel. Nevertheless, it is
also an area that has seen intense
gentrification over a relatively
short period. The combination of
Spitalfields and Brick Lane markets,
as well as the number of street food
and pop-up retail vendors has helped
provide an alternative hip culture,
which sits alongside the areas diverse
ethnic culture, with the famous Brick
Lane curry houses an example of this.
Meanwhile, the advent of independent
retailers, restaurants and bars, new
hotels and members clubs, such as
Shoreditch House, helped complete
the transformation of the area. The
downside/upside, depending upon
your perspective, in creating a place
where people want to be, is rising
occupational and living costs, which
if left unchecked will push the very
people who kick started it all into
new areas.
Hackney is at the forefront of
creativity and innovation; areas such
as Hoxton, Dalston and Haggerston
epitomise what the area has to offer.
From markets to music venues,
Hackney has a diverse and unique
culture that has evolved organically as
the area has welcomed new waves of
residents over time. Broadway market,
which has been open since the 1890's
sells organic and specialist foods such
as organic meat and oysters as well
as vintage clothes. Its smaller and
less known cousin, Netil Market sells
vintage finds in an upmarket car-boot
sale manner.
Music plays a large part in
Hackneys cultural scene; Hackney
empire, a 1900s music hall turned
modern theatre is a much loved east-
end institution, having once hosted
Charlie Chaplin, Stan Laurel and Marie
Lloyd. It has a vibrant programme of
different shows, which reflects the
local communities it serves. More
recent music offerings come from
Oslo, a Nordic chic live music venue
located in the old railway station and
the Sebright Arms that plays host
to up and coming local buzz acts.
Victoria Park stretching alongside
Regent's canal and Limehouse Cut is
home to some of the capitals most
thriving music festivals such
as Lovebox and Field Day.
Peckham
Shoreditch
Hackney
Hackney
has a diverse
and unique
culture that
has evolved
organically as
the area has
welcomed
new waves
of residents
07
COVER STORY
CUSHMAN & WAKEFIELD