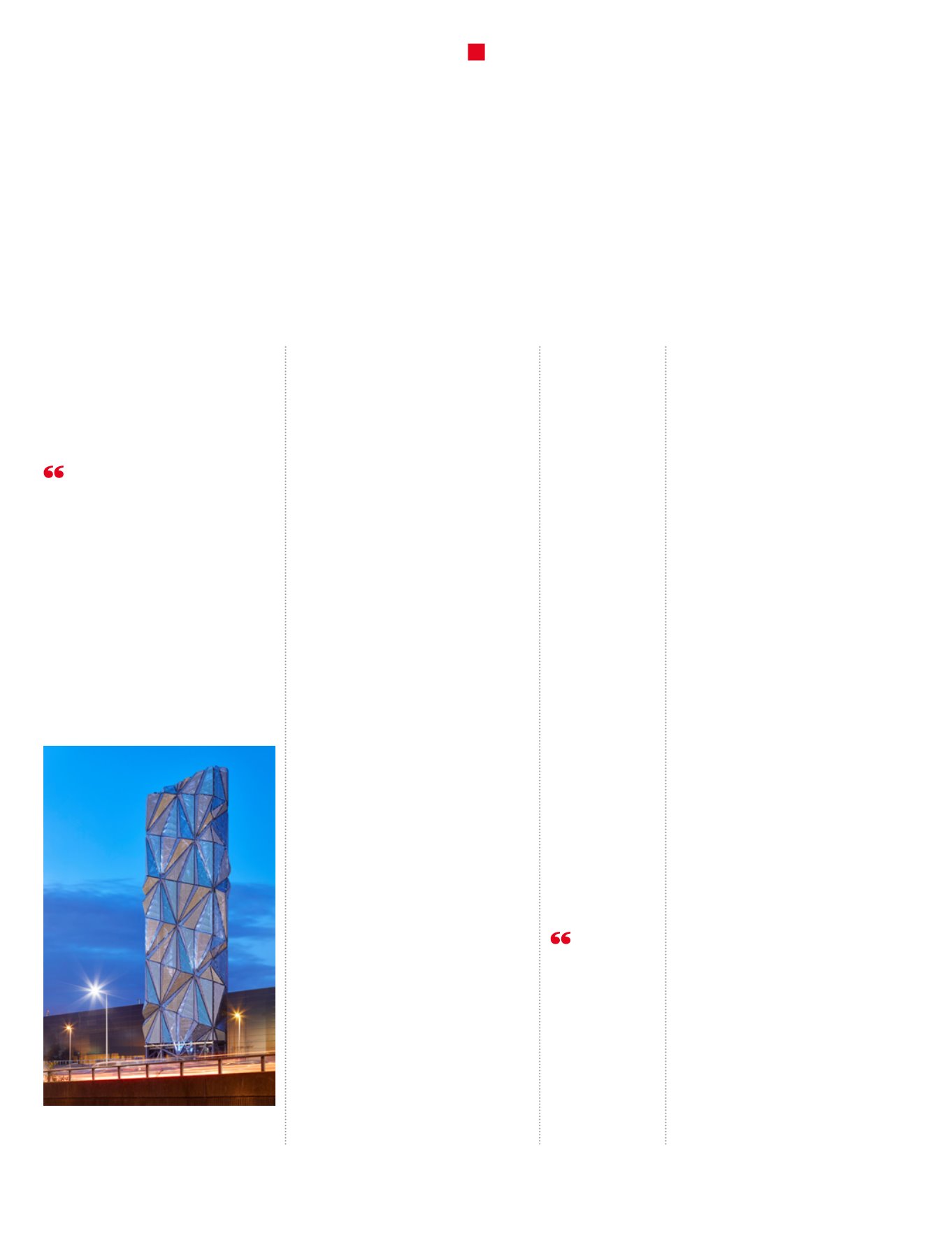 Alvar Aalto spoke of building
art as being 'a synthesis of life in
materialised form... not a splintered
way of thinking, but all in harmony
together', he may have sought
an innovative and radical model,
combining art, architecture, creative
engineering, science, master
craftsmanship and innovative
fabrication. In 2017 we need a new
system that doesn't discount risk and
experiment. Post-crash, investors,
buyers and the public have rejected
the marketing promise of a 'Truman
Show' urban paradise, bathed in
eternal sunshine and populated by
a CGI community of perfect people.
They seek an authentic narrative not
authored by a copywriter and real
experiences not bland consumerism.
We are seeing the use of 'culture
as catalyst' for well designed
inclusive public space, promotion
of health and wellbeing, community
cohesion and local socio-economic
development. In Cambridge, artist
Ryan Gander leads a team for the
new public park in the Cambridge
Biomedical Centre; in St James'
Market, Studio Swine have designed
the street furniture; and on the
Greenwich Peninsula, artist Conrad
Shawcross RA has reimagined the
power station supplying heat and
light to new community.
The market is waking up to
the power of the arts and the
benefits that culture led property
development and regeneration can
bring. The High Line in New York,
Millennium Park in Chicago and
King's Cross in London each provide
measurable evidence that culture
can be a critical ingredient when
planning a modern city. Futurecity
has led the idea of the 'Rise of the
Creative District' and our ideas and
strategies will soon be visible on
forgotten and neglected industrial
sites across London at White City,
Greenwich Peninsula, Nine Elms on
the Southbank, Barking Riverside
and elsewhere.
Kevin Murray, Honorary
Professor of Planning
Glasgow University
We cannot just
look at the world
through simplified
quasi-professional
prisms of transport
systems, land use
zoning or economic
development
through sequences
of property deals
The market is
waking up to
the power of
the arts and
the benefits
that culture
led property
development
and
regeneration
can bring
Conrad Shawcross RA has reimagined the
power station supplying heat and light to
new community
I have spent 15 years inside London's
property boom, watching the
knowledge and creative sectors
grow in importance whilst the
financial sector declined as the city's
only economic driver. A new time
requires a new approach; I imagine
the city as a 'gallery without walls'
and seek creative dialogue between
developer, planner, architect and
artist. In the new Cultural City only
community, originality, experience
and wellbeing matter. The purpose
of cities is changing; shopping is
replaced by experience and the high
street falls away to be replaced by
urban theatre at street level, with
experience and encounter informing
a place-led approach to design.
It is also time to consider (some)
developers as cultural providers;
after all, they're already investing
in architecture, infrastructure
and landscape, in new shops and
offices, in street furniture, public
art, road systems, parks and public
spaces. It is time for an intelligent
discussion between private and
public sector about how to bring
galleries, museums, libraries, studios,
creative industries and theatres
into our residential mixed use and
commercial developments. We
have already set the conditions for
the English National Ballet to move
to City Island (Ballymore), a new
theatre in Crossharbour and the RCA
Gallery in Riverlight (St James)
This approach has led Apple to
move to Battersea Power Station,
a fitting replacement of coal fired
energy replaced by a company that
uses solar, hydro and wind power.
Google has selected King's Cross for
their new headquarters building and
Facebook are moving to Fitzrovia.
Each company knows its power in
effecting change.
I believe that culture-led
placemaking must (and will) drive
the debate on urban growth as
we move from the city centre to
'Super-urban'. Culture with a small
CUSHMAN & WAKEFIELD
09
THE HOT ISSUE